Shinichi Iova-Koga
Shinichi Iova-Koga's work is grotesque, beautiful, and funny. As a dancer he is never less than mesmerizing — ephemeral like smoke, limpid like a vernal pool. He has developed a personal form of mixed-media dance theater that integrates contradictory impulses — the ancient and the technological, the chaotic and the formal, nature and nurture. He might be called a dancer at the edge.

Rita Feliciano, SF Bay Guardian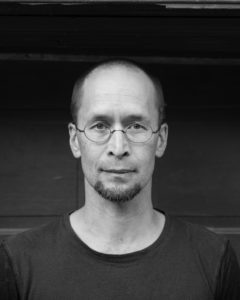 Shinichi serves as the Artistic Director of the physical theater and dance company inkBoat, founded by Shinichi in 1998. He has toured in North America, Europe, South Korea and Japan, often collaborating with local artists in museums, theaters, studios and site-specific locations.
He is the editor of the book "95 Rituals," a tribute to Anna Halprin, and a contributing writer to "The Routledge Companion to Butoh Performance." He is featured in the book "Butoh America."
Shinichi teaches annually at ImpulsTanz in Vienna. He has served as a full time core faculty member of the MFA Dance program at Mills College in Oakland, California, from 2009 to 2017.
He has taught Composition in the Arts for MFA students at UC Davis in 2014 and 2022. He has taught workshops at Bath University (U.K.), UC Riverside, UC Berkeley, Lucerne University of Applied Sciences and Arts (Switzerland), Stanford University, SF State University, Experimental Theater Wing at NYU/Tisch, Texas Women's University, University of Nevada, Reno, and others. He co-teaches the workshop "Dance on Land" and multi-month workshops with his wife Dana Iova-Koga in California, Vermont, Switzerland and Portugal.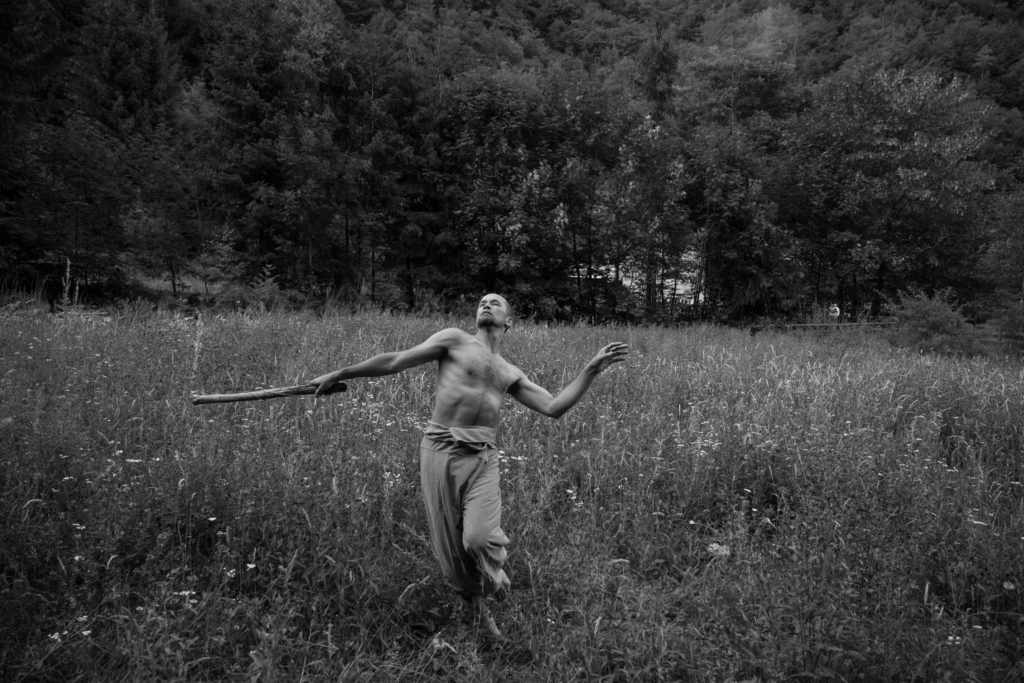 Since 2015, Shinichi's career as an international performer has merged with his Daoist Internal Arts study. Qi Gong, Dao Yin, Yang Sheng Gong and Nei Gong are part of his daily practice. He is credentialed to teach through Lotus Nei Gong International and is a San Feng Pai lineage holder with Wudang West. His approach to the negotiation between bodies continues to develop through Aikido (with teachers Jan Nevelius, Jorma Lily and Cornelius Jaeger-Herzog).
Ruth Zaporah has been his continuing mentor since 2000. Her method of improvisational skill building is called Action Theater (Shinichi is an Authorized Action Theater™ Teacher). Significant past mentors are Ralph Lemon, who instigated ideas about "anti-dance," and Anna Halprin, who encouraged community building through the art-making process. Shinichi served as Anna's associate director for numerous projects from 2009-2012 and co-taught dances for men with her until 2018.
Shinichi danced with Butoh artists Hiroko and Koichi Tamano (1991-1995), Yumiko Yoshioka (1996 -2004) and collaborated with Ko Murobushi (2008 – 2012).
Another notable collaborator is Ann Carlson, who has worked with inkBoat from 2019 – present.
He has co-created numerous performances with music groups Rova Saxophone Quartet and Sleepytime Gorilla Museum. As a guest Director, he has created stage works with AXIS Dance Company and ODC Dance Company. As a dancer, he has been a member of the Russian Dance Theater company Do Theatre (2003-2005) and Larry Reed's Shadowlight Theater (1993-1997).
inkBoat and Shinichi have been honored by awards and grants, including 5 Bay Area "Izzie" awards and grants from NEA, MAP fund, New England Foundation for the Arts, California Arts Council, Rainin Foundation, Creative Work Fund, and Gerbode Foundation.
Shinichi works primarily in San Francisco, New York and Luzern, Switzerland.
"humor, introspection, playfulness and memory with fearless gestures and thoughtfully crafted drama"

Mary Ellen Hunt, SF Chronicle review of "95 Rituals"
Awards
Under Shinichi's direction, inkBoat has has been recognized numerous times by the Isadora Duncan Awards Committee, receiving 12 nominations and 5 Izzie awards: "Special Achievement Award" for the 2015 performance of "95 Rituals;" "Outstanding Achievement in Visual Design" for the 2011 performance "Line Between;" "Outstanding Achievement in Company Performance" for the 2008 production of "c(H)ord;" "Outstanding Achievement in Company Performance" for 2004's "Ame to Ame;" "Outstanding Achievement in Visual Design" for 2003's "Heavens' Radio." Shinichi was named one of the "25 to watch" in 2008 by Dance Magazine and awarded a "Goldie" award by the SF Bay Guardian in 2007.
He has been an Artist in Residence at Universe 9, Switzerland from 2018-2022, ODC Theater, SF from 2009-2012, Headlands Center for the Arts in 2008, Wattis Artist in Residence at Yerba Buena Center for the Arts in 2002, Schloss Bröllin, Germany in 2001, Fabrik Potsdam, Germany in 2001 and La Friche, Marseille, France in 1998.
Funders include the MAP fund (2002, 2006, 2010, 2022), Rainin Foundation (2011, 2015, 2021), National Endowment for the Arts (2009, 2010, 2015), California Arts Council (1999, 2000, 2001, 2019), San Francisco Arts Commission (2009, 2010, 2013, 2015), Zellerbach Family Fund (numerous times from 1997-2020), Creative Work Fund (2005, 2014), CASH grant (2002, 2003, 2005, 2006, 2019), James Irvine Foundation (2002, 2006, 2015), New Music USA (2015), Bernard Osher Foundation (2015), MAP Fund "Creative Exploration Fund Grant" (2013), US/Japan Friendship Commission (2012), The Doris Duke Charitable Foundation and Andrew, Phyllis C. Wattis Foundation (2011), Andrew W. Mellon Foundation (2011), CCI (2008, 2011),, The Wallace Alexander Gerbode Foundation and The William and Flora Hewlett Foundation (2009), National Performance Network Creation Fund (2010), National Performance Network Forth Fund (2010), New England Foundation for the Arts, NDP (2009), Yerba Buena Center for the Arts (2002, 2008), Japan Foundation (2007), Meet the Composer (2001), American Composers Forum (1999) and Barkley Fund (1997).
"expertly mines the dark vein of absurdist humor that infiltrates Butoh"

Allen Ulrich, SF Chronicle