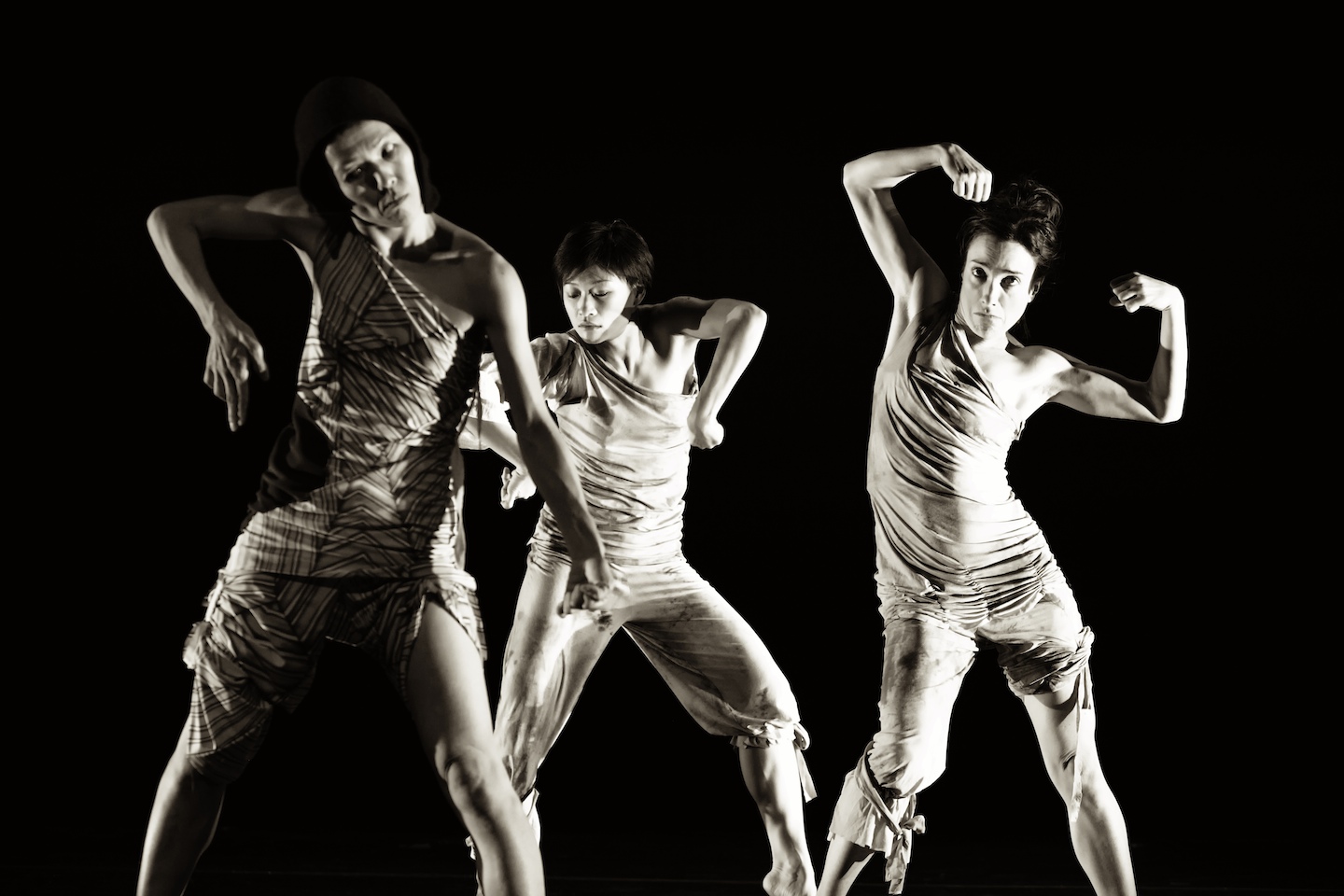 "ODD," inspired by the Norwegian figurative painter, Odd Nerdrum, united Shinichi Iova-Koga's inkBoat collaborative with Oakland's Axis Dance Company, which integrates able and disabled performers. In the past, the troupe has commissioned pieces from dance world heavy hitters like Bill T. Jones and Joe Goode, but rarely has it been tested as in this unbroken, 75-minute opus. And rarely has it emerged with such stunning results.
The lexicon of butoh inclines to graduated movement delivered by supple, contorted bodies and often articulated at a glacial pace, frequently approaching stasis, not surprising from a country that suffered nuclear attack. The apocalyptic mood yields the gaping mouths and confrontational gazes appropriated from Edvard Munch. Choreographer Iova-Koga has worked brilliantly with Axis, smoothly deploying wheelchair-bound Alice Shepherd and Rodney Bell, who, near the start, delivers an ominous monologue about guns. Long-time Axis fans who have come to expect Bell's duetting with diminutive Sansherée Giles will not be disappointed.
Iova-Koga strives to vary the pace and patterning. He fills the performance space with processions, unisons and solo outings. He smoothly blends his dancers and those from Axis, and, in the finale, he sets 19 barefoot dancers whirling, shuffling and hopping manically across the field of vision. The individual personalities of the inkBoat performers also come through, notably in a playful (everything is relative) duet for Yuko Kaseki and Peiling Kao.
Iova-Koga expertly mines the dark vein of absurdist humor that infiltrates butoh. His opening monologue describing Nerdrum's style (a projection of a painting might have helped) concludes with a physical feat that left this observer gasping. The recounting of a hilarious anecdote about John Lennon and Paul McCartney almost passes without notice.
The danger in butoh performance lies in treading a thin line between sustaining a vocabulary that depends on a high degree of physical rigor and permitting the stylization to slip into mannerism. Iova-Koga never crosses that frontier, though a bit of editing might improve the piece.
"ODD," which transfers to Oakland next weekend, arrives with an impressive team of collaborators. Cellist Joan Jeanrenaud, a frequent participant in Axis' ventures, contributed an effective score performed live and amplified. Seated on an elevated platform, Jeanrenaud alternates contemplative passages with discordant episodes. The versatile Dohee Lee supplies percussive interludes, some barely perceptible, others painfully resonant, and wordless chants which suggest rumblings in the soul. Heather Barsarab's lighting does the job magnificently.
See: Original Article
This article appeared on page E – 2 of the San Francisco Chronicle
Photo by Pak Han